AIR CONDITIONER INSTALLATIONS
Home Service Plus proudly provides AC unit installation and replacement services for folks throughout Winnipeg. We offer you the greatest selection of highly efficient, name-brand air conditioning systems on the market. When your AC system becomes outdated and needs a replacement, the AC technicians here at Home Service Plus can provide you with a 100-percent satisfaction guaranteed installation.
Climate conditions throughout Winnipeg and the rest of Manitoba are extreme. Our winter weather, which can dip below negative 30 degrees Celsius, is in sharp contrast to our summer weather, sometimes exceeding 30 degrees Celsius. High humidity makes summer conditions even more unpleasant. That's why air conditioning is a must for homeowners in the region. Aside from cool, comfortable air, a new air conditioning system also cleans the air in your home. Plus, because a new unit's modern, high-efficiency compressor will be located outside, there's little noise when the AC kicks on.
We're proud to offer high-efficiency air conditioning systems that will help reduce your monthly electric bills while improving the comfort of your home. We know that an AC unit replacement can be a big investment, and that is why we're sure to get it right the first time. If you're ready to install a new AC unit, we're here to keep you cool — give us a call to get started! You can also continue reading to learn more about signs that you need a new AC unit, the current freon phase-out, and our 24/7 emergency AC services.
WHY YOU SHOULD REPLACE YOUR OLD AC UNIT
If you're considering replacing your current air conditioner unit, then it's likely that you've had it for some time. You may also be experiencing unexpected problems, your unit may be inefficient, or it may be poorly sized for your property, among other problems. Regardless of the issue at hand, we can perform a replacement. We'll work with you to understand your needs and the cooling demands of your property, and we'll recommend a unit that is perfectly adept at cooling your space. Plus, we'll uninstall and remove your old unit for you, so you don't have to lift a finger. If you're on the fence about replacing your unit, you may want to consider a new unit for all of the reasons listed below.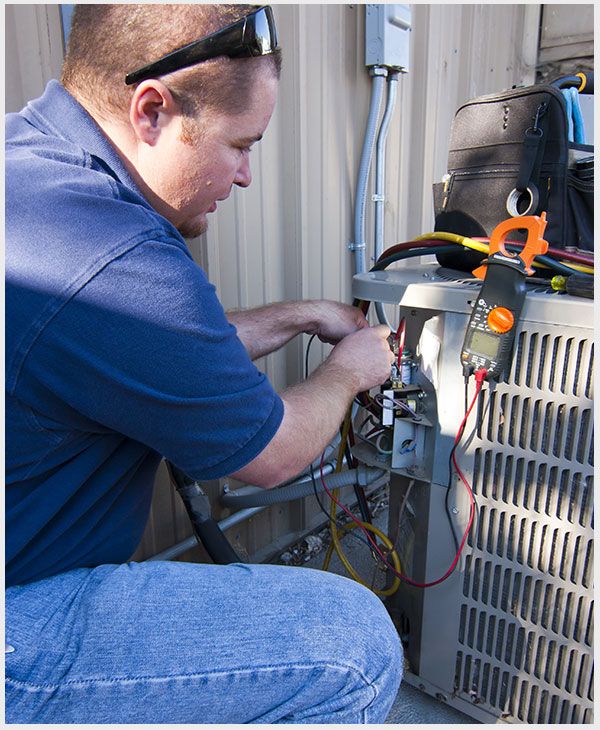 CONSIDER REPLACING YOUR AIR CONDITIONER IF YOU FALL UNDER THE FOLLOWING CATEGORIES:
Your AC unit is outdated: Exterior AC units tend to last about 10 to 15 years, depending on the unit model, the use of the unit, and the weather conditions to which the unit is exposed. In addition, the rest of the interior portion of the HVAC system may endure wear and tear, which may require a replacement every 15 to 20 years or so. Take a look at your owner's manual for your current unit to see how old it is. You may also be able to tell that your unit is outdated if it is rusted, noisy, or damaged.
Your AC unit requires costly repairs: If your unit requires repairs, you may want to way the cost of the repairs versus the cost of upgrading your system. Repairs, like replacing the compressor, can be about as costly as a complete upgrade, and they can end up costing more in the long run because your current unit may be less efficient than a modern model. If you're uncertain whether you should repair or replace your AC unit, we'd be happy to discuss your options.
Your AC unit is inefficient: Your air conditioner may simply sap energy as it tries to cool your home. Be mindful that your AC unit shouldn't have to run all the time to cool your space — this may be an indication that your unit is inefficient, poorly sized, or outdated. You may also have a unit that is too big for your home. Oversized units only run for about 10 minutes in order to cool your space. Ideally, your AC unit should click on for about 15 minutes during its cooling interval, and intervals should occur two or three times per hour, depending on the weather conditions.
You have a poorly sized AC unit: As we mentioned, an improperly sized AC unit will be costly over time. An undersized unit will have to run nonstop in order to cool your home. And an oversized unit will draw more energy than necessary to cool your spaces. Keep an eye on your energy bill and your AC's on-off intervals to see if you should replace your unit with a unit that is properly sized for your home.
Your AC unit has completely failed: If your AC unit has stopped working altogether, it's time for an upgrade. Again, we do provide 24/7 services in case of an emergency, so don't hesitate to reach out to us if your AC unit has failed in the middle of a hot summer.
Your AC unit uses freon: Ever since 2010, newly produced AC units no longer utilize freon as the coolant, since this chemical is harmful for the environment. If you have a pre-2010 model, you may need to replace it with a puron-coolant model. Learn more about the freon phase-out below.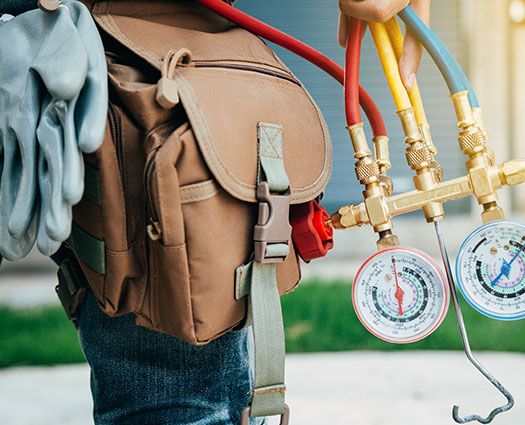 FREON PHASE-OUT UNDERWAY
Did you know?
The refrigerant used in many Air Conditioning Systems known as R-22 (freon) is soon to be part of the past, as mandated by the government. Freon is known to be unhealthy and it destroys the environment. Plus, these units are more costly and less efficient than modern units. As of 2010, absolutely no R-22 freon equipment will be manufactured. The goal is that, by 2015, the use of R-22 will be reduced by 90 percent. Nowadays, freon has been replaced with new, environmentally friendly, and safe puron. If it's time to upgrade your unit with a puron AC unit, we can help — we only install models that rely on puron coolant. Reach out to us to learn more.
ROUND-THE-CLOCK INSTALLATIONS
Here at Home Service Plus, we understand that cool air is a must during the hottest months of the year. That's why we provide 24/7 service for emergency situations. If you need to have your unit serviced or replaced right away, please don't hesitate to contact us. We're available around the clock, and we'll prioritize your service. Keep your home temperature from soaring, call on Home Service Plus for our emergency AC unit replacement services.
CALL FOR COOL, COMFORTABLE AIR
Don't sweat it this summer. Count on Home Service Plus for reliable, cool, comfortable air. We'd be happy to stop by your home, speak with you about the models and brands available, and work with you to settle on the perfect AC unit to fit your space. Take note, we also offer financing through MB Hydro financing programs — just reach out to us if you're interested! Count on Home Service Plus to install a modern AC unit at your home, call today!
Just fill in your basic info below and we'll get in touch with you.