Home Service Plus proudly provides AC unit repair services for folks throughout Winnipeg. Like all of the appliances in your home, your central air conditioning system is a major investment. You rely on it to keep your home comfortable during our hot, humid summers. When your AC unit breaks down, it's our goal is to provide you with a speedy air conditioner repair, so you can enjoy comfortable, cool air in your home once again. Our trained and experienced HVAC technicians will make sure that all your repairs are completed properly and you are fully satisfied with our work.
We understand that you want repairs right away, and a repair service that will last. We rely on high-quality parts, the right tools, and our years of experience to ensure that your AC unit is in efficient, working order. Plus, we have technicians on call 24/7, and we offer emergency repair service throughout Winnipeg.
WHY YOU SHOULD REPAIR YOUR OLD AC UNIT
We're backed by years of experience in the HVAC industry, and all of our work is 100-percent guaranteed. We understand that our reputation is on the line with every job we complete, and we won't settle for anything less than perfection. Keep your home comfortable with Home Service Plus, call today to repair your air conditioner! Feel free to continue reading to learn more about common AC unit problems that you may have, and discover why we're the best HVAC specialists in Winnipeg.
COMMON AC UNIT PROBLEMS
Frozen evaporator coil: Your air conditioner has an evaporator coil which contains coolant that circulates through the coil and compressor. While in the coil, the coolant pulls heat from the air, leaving cool air that can be forced through your home. However, the coil is liable to freeze over, since the coil itself will be quite cool. When the coil freezes over, your compressor can endure wear and tear, and may even break over time. It's crucial to keep your evaporator coil from freezing to avoid costly repairs. If you notice that your evaporator coil is frozen, then you should shut down your AC for some time to allow it to thaw. Look for ice around the coil, as well as condensation in the catch underneath the coil. We can inspect your AC unit to ensure that there isn't a problem that is causing your AC unit to work overtime, which can cause the coil to freeze.
Blower fan malfunction: Your blower fan is responsible for forcing air flowing over the evaporator coil into the rest of your home. However, the motor of your blower fan is liable to fail. If you notice loud noises coming from your blower fan, or if your blower isn't operating at all, then it's time to give us a call. You may experience little or no air movement coming from your vents, as well.
Temperature swings: Your AC unit is designed to keep your home at a relatively stable, comfortable temperature. Temperature fluctuations may be an indication that your AC unit isn't up to snuff. If you notice temperature swings, you may have a thermostat problem, you may have a blower fan issue, or you may have a frozen evaporator coil. We'll perform an inspection to pinpoint the source of your temperature swings.
Little or no cool air: If you can't feel cool air pumping through your vents, then your AC system isn't doing its job. Again, you may have a blower fan issue, or you may have a frozen evaporator coil. You may also have air duct problems, an obstruction in your ducts, or a clogged air filter.
Compressor damage: Your compressor plays a crucial role in your AC system by compressing the coolant as it circulates through the system. If you have a failed compressor, your AC unit simply won't cool.
Complete failure: If your AC unit isn't operating at all, your air conditioner may be at the end of its service life. Be mindful that AC units tend to last between 10 and 15 years, depending on its utility, the make and model, and other factors. At some point the condenser may give out. You may also have faulty electrical components, or a miscommunication between the thermostat and the unit.
Dirty air filter: Your air filter keeps particles from outside from becoming dust in your home. Furthermore, it keeps your interior air fresh. However, your air filter is liable to get gunked up with dust over time. If you've noticed less airflow as your AC kicks on, your filter may be to blame. You may need to have your filter replaced or cleaned, depending on the type of HVAC system you have.
Thermostat problems: Your thermostat should relay when your home needs to be cooled. However, a poorly calibrated thermostat can leave your home uncomfortable. You may also lose electrical connection between the thermostat and the AC unit, which will cause a failure. We can make sure your thermostat is working properly, and it is calibrated to accurately measure the temperature.
Electrical issues: Often, electrical issues lead to a complete system failure. We can assess the electrical components of your thermostat and unit to ensure that all of the connections are in place.
Duct inefficiency: Your ducts should allow air to flow smoothly to your vents. If you have poorly installed ducts, a duct leak, or an obstacle blocking flow, then you'll lose cool air. We can make sure your ducts are clean, clear, and properly installed.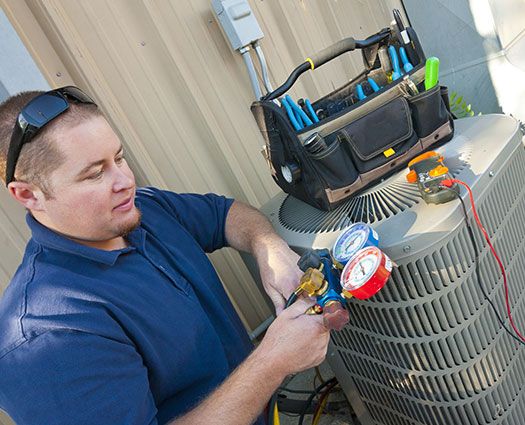 ROUND-THE-CLOCK REPAIRS
Do you have a complete AC failure? Are temperatures sweltering? You can count on Home Service Plus for our round-the-clock repairs. We provide 24/7 service for emergency situations. If you need to have your unit repaired right away, please don't hesitate to contact us. We pride ourselves in providing same-day service for most repairs, and we'll prioritize your service in case of an emergency. Keep your home temperature from soaring, call on Home Service Plus for our emergency AC unit repair services.
OUR PROMISE
Here at Home Service Plus, we strive to provide our clients with superior service and repairs that they can trust. We aim to go above and beyond to ensure our customers are satisfied. When you call on Home Service Plus, we promise to provide you with all of the following.
Our technicians go through background and criminal record checks.
We wear shoe covers and use drop cloths to protect your home.
Our technicians are courteous, uniformed, and will always respect you and your home.
We clean up and remove all trash.
Our technicians are factory trained and receive regular ongoing air conditioning training.
If we can't repair your AC during our visit, we will provide you with a free, in-house portable AC.
Same-day AC repair services are often available for Winnipeg residents - 94% of all of our service calls are handled on the same day.
KEEP COOL, CALL HOME SERVICE PLUS
From a broken fan to thermostat problems, you can count on us for repairs to keep your home comfortable. Discover why our neighbors throughout Winnipeg count on us for all of their HVAC needs. Ask us about our air conditioning repair services and schedule an appointment — contact us today!
Just fill in your basic info below and we'll get in touch with you.